Experience the unique nature and history of Örö fortress island! Barracks, cannons, defense posts and fortifications of the once closed military area presents the history of Finland's coastal defence. Part of the island's nature has remained virtually untouched over its century-old fortress history. There are unique habitats and rare plants, insects and birds on the island, making Örö one of Southern Finland's key concentrations of threatened species and habitat types.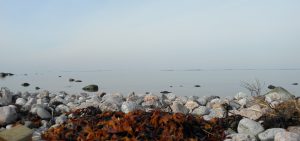 Departure from Kasnäs and Örö on certain days 1.4-31.12.2021.
Timetable depends on the day, here is an example:
11.00 Kasnäs-Örö, 50-60 minutes
16.15 Örö-Kasnäs, 50-60 minutes
The boat transport price is from 29,00 € / person, children 3-12 years from 15,00 €. The reservation and payment can be made online.
Rights to changes are reserved.
Please book in advance to secure your place, there's a limited amount of places on the boat! See timetables and book here
Naturally, you are very welcome to contact us by e-mail info@rosala.fi with any questions you might have. We are here to help you! On urgent issues regarding regular traffic to Örö, contact shipping company: phone +358 50 551 4266.
Things to know when booking the trip:
– Recommended driving time from Turku is 1,5 hours and from Helsinki 2,5 hours.
– The free-of-charge parking area is situated on the right hand side ca 450 m before you reach the pier.
– The road ends in three jettys, the one in the middle is where the vessels start. There is an Örö sign at the jetty.
– You can find information of Örös restaurant on Visit Örö, and more information on nature and history on Nationalparks.fi.
Map to Kasnäs