"Bengtskär is the mother, grandmother and godmother of all lighthouses! The lighthouse has a good old-fashioned archipelago kitchen, a lovely host couple and wonderful staff. Staying the night is definitely worth it! If you visit one lighthouse in your life — make it Bengtskär!"
The Bengtskär lighthouse is the most majestic and impressive sight in the Southwestern archipelago. Its massive stone walls have witnessed some of the most dramatic events in our history. For over a hundred years, the lighthouse has guided thousands of seafarers along safe routes.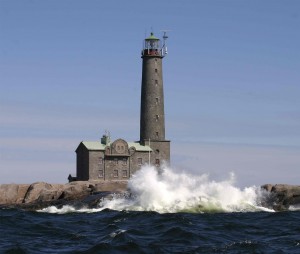 In the summer of 1995 the lighthouse was opened for visitors. It became an important sight and an interesting travel destination.
The exhibitions tell of lighthouses, war history and the environment of the archipelago, among other things. On the bottom floor resides the first lighthouse museum in Finland as well as a permanent Bengtskär 1941 exhibition, which uses pictures and documents to tell the story of the battle of Bengtskär. The conference room is also on the ground floor.
On the first floor of living quarters, there is a cafe, a chapel, the lighthouse post office and the restored home of the lighthouse keeper. On climbing the tower and reaching the top, you're awarded with a stunning view of the sea.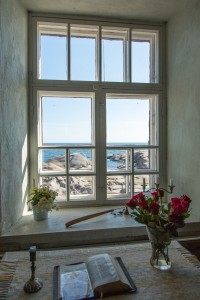 The hotel rooms are on the second floor of living quarters. The lighthouse provides opportunities for meetings and training events as well as unique accommodation for individual travelers and families.
The lighthouse also makes a good destination for shorter day trips. A good way to visit the lighthouse, along with the Rosala Viking Centre on the way, is the Archipelago Sights Route-cruise, which departs from Kasnäs in June-August. In May there is a spring tour and in September a autumn tour to Bengtskär every weekend.
Book your trip from Rosala & Bengtskär booking office!
Read more about the lighthouse on Bengtskär's home page www.bengtskar.fi