A thousand years ago, Finland lived its Iron Age, the mythical Viking Age. You can experience an amazingly authentic time trip to this period in the Viking Village in Rosala, a visitor's centre that materialises times past. The centre, which is the only one of its kind in Finland, is situated a hundred kilometers from Turku and two hundred from Helsinki and offers a breathtaking pre-historic setting for your visit.
The Viking Museum consists of not only informative exhibitions, but also an entire reconstructed Viking village, where you can invision yourself in the Viking Age.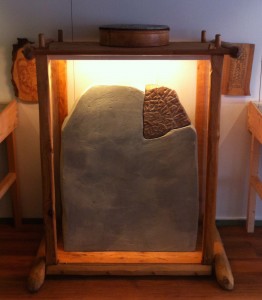 In three different exhibition halls you can in versatile and interesting ways learn about the Iron Age history of the Archipelago and Finland. You will find replicas of the archeological finds from the Hitis site, Viking Age trade products, handicraft and musical instruments, and last but not least Viking weapons, helmets and other fighting equipment. Not to mention Norse mythology with tales of gods, elves and trolls.
The entrance fee (8,00 / adult and 4,00 / children 4-14 years) includes a short introduction, video presentations and a guide map to the Viking village. If you are traveling with a group you can also choose to book a guide for a tour of the village, and also other activities such as axe throwing, or maybe an entire Viking pentathlon!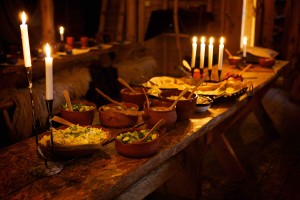 In the majestic yet cozy Chieftain hall Rodeborg you can treat your guests to a feast to remember! The delicious meal is served on a piece of wood and the beverages in clay mugs. The Chieftain Feast includes a guided tour to the Viking village, axe throwing program and a viking mantle. In Rosala you can arrange unforgettable weddings, business travel for your company with or without meetings, or maybe a nice weekend trip with friends and family.
Also in the Chieftain hall we have rooms for exotic Viking style accommodation, which is an appreciated combination of authenticity and modern conveniences. We have several ready-planned packages to choose from, read more about them here.
If you don't have the opportunity to stay over night, an excellent way to visit the Viking Centre is the Archipelago Sights Route-cruise, which takes you to see the magnificent Bengtskär lighthouse as well.
For more information about the Rosala Viking Centre, go to www.rosala.fi.