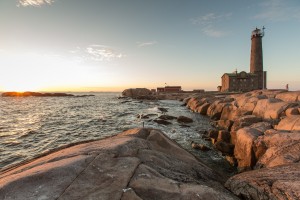 Conference at the Bengtskär lighthouse
A calmer work environment is hard to find! The unique location of the lighthouse, far from everything out on the open sea, is sure to focus even the most stressed-out mind. The lighthouse is also an excellent destination for recreational activities, and visits to other sights along the way are possible.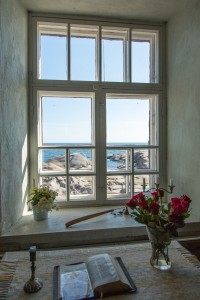 We arrange conferences and meetings for groups every day from beginning of May until midsummer, and in August-September. Weather reservation.
The lighthouse conference packages include a return boat trip from Kasnäs, admission and a short guiding, conference room with AV equipment, coffee with bun and lunch. We recommend staying the night in the lighthouse.
The lighthouse conference room is on the ground floor. Recommended group size is 8-24 people.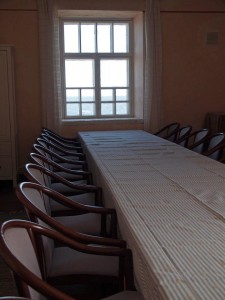 Example program:
11.00 Kasnäs-Bengtskär 12.30
Arrival, lunch, guiding
Meeting, afternoon coffee
19.00 Dinner
Sauna
9.00 Breakfast
Meeting
12.00 Lunch
Meeting
15.30 Bengtskär-Kasnäs 17.00.
The schedule can be customised according to your wishes within certain limits. The check-in and check-out times for the hotel rooms are fixed, dinner mustn't be later than 19:00 and breakfast mustn't be before 9:00. The lighthouse is available exclusively to overnight guests during the time between dinner and breakfast.
Conference at the Rosala Viking Centre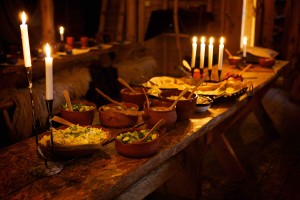 In the Rosala Viking village you experience a true breeze from the past. You can arrange an effective day of meetings, by the end of which you are transferred a thousand years back in time, to the fabled iron age. The visit can include everything from dining in the Chieftain's hall Rodeborg to activities like the Viking pentathlon, complete with axe throwing. You'll spend the night like the Vikings, in a unique reconstructed environment, while enjoying the comforts of modern life.
We're available for booking all year round and our packages can be customised according to your wishes. Whether the objective is a productive conference or a memorable recreational trip, we serve you with joy and with knowledge brought by experience.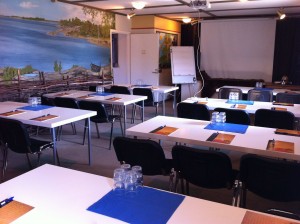 In the Viking Centre conference room, there is AV equipment for meetings and training events. A one day conference package includes boat transport from Kasnäs, conference room, lunch, coffee and Viking dinner. We also recommend staying the night in the chieftain hall Rodeborg, and a 15 person sauna is available.
The conference room suits smaller groups of 14 persons or less, or in auditorium configuration 30 persons or less. It can be reserved for meetings and training events all year round, except during the Christmas holiday.
The auditorium in the main building seats 50 persons and can be reconfigured into a meeting space for 18-20 persons or alternatively a 24 person auditorium with tables.
Conference rooms are also found in the Kasnäs Spa Hotel as well as on Örö fortress island. Send us your information using the form below, and we will get back to you by e-mail with an offer including a suggested schedule!